In the north east of England there is a wide variety of sites, which are home to over a hundred species of birds all year long.  As the seasonal clock turns, these are joined by dozens of migrants.  Some travel from far away shores, to build their nests and raise chicks for the next generation. Many others stop off for a short break; bird tourists passing through.  As our climate starts to change and external factors such as how land is used and developed; or the availability of food, the distribution of our wildlife is also changing.
"How many of the sites featured in this online resource have you visited?"

Over the past two decades, Little Egrets and Avocets have settled in the northern counties as our climate has warmed; whilst many seabirds such as the Kittiwake have seen falls in their populations, which may be related to severe weather and the availability of their tasty seafood.
The purpose of this online guide is to share a selection of locations with visiting and local birdwatchers.  All of these sites can be popular with birds and other wildlife throughout the year.  This is a FREE CONCISE guide which is  illustrated with photos from the area. This website is fully responsive. It is written and programmed to be more user friendly when accessing on iPhones or iPads etc. as well as a desktop.
By increasing the range and variety of habitats you choose to visit to birdwatch, there is always a greater chance of recording a wider selection of species of birds.
"Are there any species you have not seen yet?"
Facilities such as bird hides, nearby toilets and cafes, can also improve the experience greatly. Spending time outdoors can also be a great way to obtain exercise and lots of fresh air. Many of the sites featured, are family friendly and can be a relaxing day out for everyone.  Some are 100% free to visit; whilst others are managed by local wildlife charities such as the » Northumberland Wildlife Trust, » Natural History Society of Northumbria or the » RSPB.
Birdwatching Sites – North of the Tyne and the Wall
Newcastle, North Tyneside and Northumberland.
* When using the interactive maps; at times it maybe necessary to drag up or down with your mouse to reach/display surrounding areas or to ensure any 'pop up boxes' show in full. Should you need any support, please free to contact us.
"There are over fifty 'Birdwatching Sites' listed for 'Northumberland', 'North Tyneside' and 'Newcastle'."
To read about a site, simply HOVER over a site marker on the map above, CLICK the mouse and a box will appear, which shows a small photo and a link which you can click on for more details.  Alternatively there is a  list below with hyperlinks to  the sites. Each site has an interactive map, which helps show the location and any facilities, such as parking, toilets or bird hides which may be available.
Freshwater Pond, Lake Or Reservoir
» Arcot Pond   » Backworth Pond    » Big Waters NR  » Bolam Lake CP  » Bothal Pond   » Capheaton  » Cresswell Pond NR
» Druridge Bay CP   » Druridge Pools NR   » East Chevington NR   » Ellington Pond NR    » Exhibition Park
» Gosforth Park NR » Hauxley NR   » Holywell Pond NR    » Killingworth Lake   » Leazes Park   » Marden Quarry
» Newton Pool NR  » Queen Elizabeth II  CP   » Rising Sun CP & Swallow Pond NR   » Whittle Dene Reservoirs
Coastal
» Amble & Coquet Estuary    » Bamburgh & Stag Rocks    » Budle Bay    » Coquet Island    » Craster & Dunstanburgh
» Druridge Bay » Farne Islands    » Holy Island    » Newbiggin By The Sea    » North Shields Fish Quay    » Ross Back Sands
» Seaton Sluice     » St Mary's Island & Wetland    » Tyne Esturary    » Tynemouth Haven
Woodland
» Allen Banks    » Briar Dene    » Holywell Dene    » Jesmond Dene    » Northumberland Park
» Plessey Woods    » Wallsend Burn, Dene & Parks
Riverside
» Castle Island   » Corbridge    » Hexham – Tyne Green CP    » Morpeth    » Walker Riverside Park
» Tyne Kittiwakes     » Wildlife along the Tyne – 30+sites
Upland
Wetland/Grassland
» Grindon Lough NR    » Prestwick Carr    » Wheetslade Country Park
South of the Tyne
"Gateshead, South Tyneside, Durham, Sunderland and Teeside."
These sites are currently being developed and content will start to appear here in the coming months.  This will include a variety of habitats and will take users on a journey south of the River Tyne and down to the River Tees.   These will include: Blackhall Rocks, Boldon Lake NR, Castle Eden Dene,  » Chester-le-Street's Riverside Park, Chopwell Woods,
» Clara Vale NR,  » Dunston Staiths, Durham Riverside, Lamesley Pastures, Low Barns NR,  » Marsden Rock , Marsden Quarry, Rainton Meadows NR, RSPB Saltholme, » Saltwell Park , » Shibdon Pond NR , Teesmouth NR, Thornley Woods and
WWT Washington. Further sites will follow very soon.
If there is a site you would like to be included please get in touch.  Over 60 sites will be featured.  Quite often local birders, spend a lot of time with their hobby, staying within their own county.
Birdwatching can be a great social activity and exploring and experiencing new sites, can be very rewarding. Exploring wildlife outdoors can be great for meeting new people and as you visit new places, it can be great for keeping fit; especially as many of the locations featured in this guide, are great for outdoor walks for the whole family. Interactive maps help to highlight access and any facilities available on site or nearby.
Kittiwakes upon the Tyne
"

The Furthest Inland Breeding Colony of Kittiwakes in the World"
Kittiwakes usually nest on coastal cliffs or offshore islands.  As you travel from the towering cliffs of
» Tynemouth Haven, past the popular » North Shields Fish Quay and continue along the River Tyne and onto where the river meets » Wallsend Burn ; you can soon find the famous Tyne Kittiwakes.  A soft gentle Gull which has chosen a variety of locations to nest along the River to during the spring and summer months.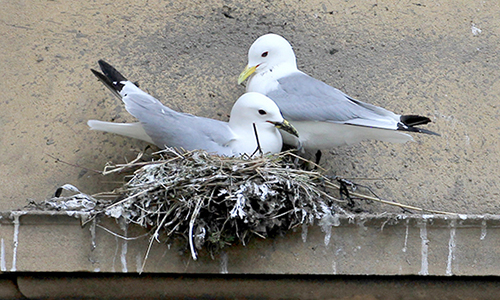 The bulk of the Tyne Kittiwake colony can be found close to the Quaysides of Newcastle and Gateshead.  Some have chosen to nest in Felling, opposite
» Walker Riverside Park in Newcastle.  Kittiwakes also nest some years at » North Shields Fish Quay, close to the Ferry landing.
Birders wishing to experience Kittiwakes up close in their natural coastal habitat; can easily find Kittiwakes nesting on the cliffs at » Tynemouth Haven or the offshore islands well known as the » Farne Islands.
Recommended Websites
Newbiggin-by-the-Sea
The Fauna, Flora and Geology
Newbiggin-by-the-Sea sits on a headland which juts into the North Sea.  It is well placed for observing seabird and wildfowl passage and it is a superb site for migrant bird passage.
Since the late 1980s almost 300 species of birds have been recorded ranking it one of the UK's top birdwatching sites.
Wildlife along the Tyne
An interactive guide
The riverside habitats along the Tyne are filled with wildlife all year long.  A new online guide is currently in development. It will contain interactive maps, which show over thirty locations.
The River Tyne in the North East of England is formed by the confluence of the North and South Tyne to the west of Hexham. It flows for over seventy miles.