There is a good selection of habitats in the north east of England, which are home to over a hundred species of birds, which are present all year round. As the seasons clock turns, these are joined by dozens of migrants every year.  Some travel from far away shores, to build their nests, and raise their young to bring life to the next generation. Many others stop off for a short break; 'bird tourists', passing through.
The purpose of this website is to share some of the 'Best Birdwatching Sites' with visiting and local birdwatchers.
How many of the sites listed have you visited? Are there any where you would like to learn more about access and facilities?
Are there any birds you have not seen yet? By increasing the range and variety of the habitats you choose to visit to birdwatch, there is always a greater chance of recording a greater selection of species of birds.
Facilities such as bird hides, nearby toilets and cafes, can also improve the experience greatly.
Birdwatching Sites – North of the Tyne and the Wall
Newcastle, North Tyneside and Northumberland.
Filter by
There are over fifty 'Birdwatching Sites' listed for 'Northumberland', 'North Tyneside' and 'Newcastle'.
To read about a site, simply hover over a site marker on the map above, click the mouse and a box will appear, which shows a small photo and a link which you can click on for more details.  Alternatively there is a full list below with hyperlinks to all the sites which are included in this online resource. Each site has an interactive map, which helps show the location and any facilities, such as parking, toilets or bird hides which may be available.
Freshwater Pond, Lake Or Reservoir
Coastal
Woodland
Riverside
Upland
Wetland/Grassland
Kittiwakes upon the Tyne
The Furthest Inland Breeding Colony of Kittiwakes in the World
Kittiwakes usually nest on coastal cliffs or offshore islands.  As you travel from the towering cliffs of  Tynemouth Haven, past the popular North Shields Fish Quay and continue along the River Tyne and onto where the river meets Wallsend Burn ; you can soon find the famous Tyne Kittiwakes.  A soft gentle Gull which has chosen a variety of locations to nest along the River to during the spring and summer months.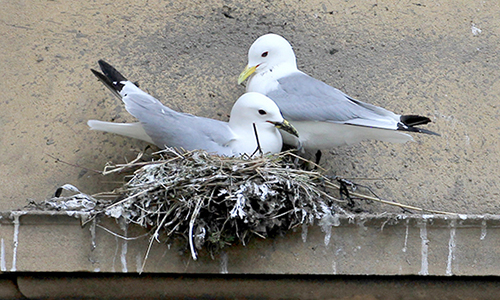 The bulk of the Tyne Kittiwake colony can be found close to the Quaysides of Newcastle and Gateshead.  Some have chosen to nest in South Tyneside, opposite Walker Riverside Park in Newcastle.  Kittiwakes also nest some years at North Shields Fish Quay, close to the Ferry landing.
A pair of Kittiwakes nesting on the Guildhall
Newcastle Quayside
Birders wishing to experience Kittiwakes up close in their natural coastal habitat; can easily find Kittiwakes nesting on the cliffs at Tynemouth Haven or the offshore islands well known as the Farne Islands.
To learn more about the legendary Tyne Kittiwakes, please visit:
Kittiwakes upon the Tyne
A website specially dedicated to the Tyne Kittiwakes
Natural Newbiggin
Newbiggin-by-the-Sea sits on a headland which juts into the North Sea.  It is well placed for observing seabird and wildfowl passage and it is a superb site for migrant bird passage in the Spring and Autumn.
Since the late 1980s almost 300 species of birds have been recorded ranking it one of the UK's top birdwatching sites.
There is a website specially dedicated to 'The Fauna, Flora and Geology of Newbiggin-by-the-Sea'.
This can be found at Natural Newbiggin
New Content
Updates for Newcastle, North Tyneside and Northumberland
Many of the sites listed above will be updated during 2020 and some additional sites will be added.
"Are there any which you feel, you would like to see included in this online resource"?
South of the Tyne
Durham, Gateshead, South Tyneside, Sunderland and Teeside.
These sites are currently being developed and content will start to appear here in the near future.