Whichever the season Jesmond Dene is always a beautiful place to visit. The site consists of a narrow wooded valley with a freshwater river which is both rich in wildlife and local history. A variety of nature trails are available which stretch from South Gosforth to the neighbouring Heaton and Armstrong Parks through to the Ouseburn which then meets up with the River Tyne.
Key species to watch out for include Kingfisher, Dipper, Treecreeper, Jay, Great Spotted Woodpecker, Bullfinch and Grey Wagtail. Recent sightings have also included Goosander and Mediterranean Gull. Jesmond Dene is also home to 'Pets Corner' which is a very popular visitor attraction. Here you can view for free Pot-bellied Pigs, Sheep, Goats and a variety of caged birds.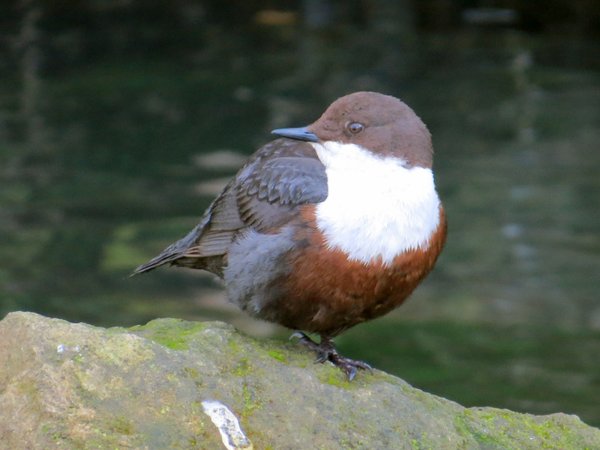 There is also a small lake at Paddy Freemans which is used by model boat enthusiasts and is home to Mallards, Tufted Ducks and on the very rare occasion a Coot.
"Another of the main features of Jesmond Dene
is the presence of a waterfall and the remnants
of a Watermill, which is often a highlight for many".
If you have not been to Jesmond Dene yet, it is highly recommended as not only will you see a good selection of woodland birds, but the surrounding well established woodland and parkland beckons to be enjoyed by all. There are a number of ways visitors can enter Jesmond Dene. From the south, there are entrances close to the Coast Road (A1058), and from the north, there are entrances opposite the Freeman Hospital, via Paddy Freemans.
County
Tyne & Wear, Newcastle upon Tyne.
Map Reference
NZ 262 661
Habitats
Woodland
Freshwater River
Access
There is free access to Jesmond Dene. Some of the paths are unsuitable for wheelchair users.
Facilities
There are toilets at the Millfield House Cafe and close to the waterfall and Picnic Site.
Parking
There is free parking available.
Additional Information
There is also a local community group. The aim of the group is to work for the protection of the Dene by working in close cooperation with the council. Friends of Jesmond Dene